About TCT
Testimonials
|
Our Policies
|
Meet Our Pros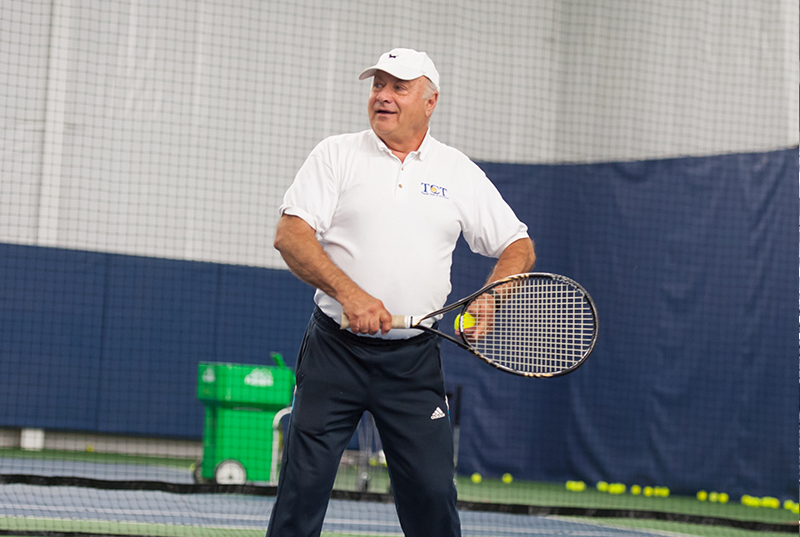 It all started when Ed and Janet Pagano had a dream of opening one of the finest indoor tennis facilities in all of New England — and so the Tennis Club of Trumbull opened its doors in September of 1985. In the years that followed, the focus has been on teaching proper technique first and foremost. Ed has made sure the TCT staff is comprised of seasoned pros capable in order to provide the highest quality instruction. Among TCT's early pros were Brian Barker, just off the men's tour, and Rome Lillicraf, both of whom remain on our staff today. Along with the rest of our highly-acclaimed staff, TCT strives to create a knowledgeable and friendly environment for all of our patrons.
Over the years, TCT's USTA teams have reached 10 Sectional and four National tournaments. Our juniors continue to achieve impressive sectional and national rankings, including some of the best in the country in 2016. In 2012, TCT's Tri-Level 4.5 team reached Nationals, and our Men's 3.5 team earned fourth place in the 2013 Nationals hosted in Arizona.
In the winter of 2011, TCT suffered a serious setback: record-breaking snowfall accumulated, resulting in a roof collapse over the (thankfully empty) courts. A new and improved TCT rose from the ashes of its predecessor: our upgraded facilities include state-of- the-art courts, central air, spacious locker rooms, and a comfortable lobby with sky boxes for extra viewing space.
Although TCT's facilities have changed over the years, our philosophies have not. Our world-class teaching pros continue to provide high-quality instruction that allows both our juniors and adults to learn and succeed – it is no coincidence that TCT has two of the top nationally-ranked juniors and that our USTA teams continue to perform well in Districts, Sectionals, and Nationals.
Because of this, TCT can confidently say the future of tennis starts here.
---
Testimonials
"As someone who never played competitive tennis and hadn't picked up a racquet since high school, I found TCT to be the ideal place to get into the game. John and Ed provided very thorough instruction with great patience and humor. The thing that really makes John and Ed stand out is that they teach you the basic swings you need to be able to play the game now while incorporating the skills you will need to win the game later! The beautiful facility and friendly staff make TCT a place you look forward to playing at."
- Elaine R. (NTRP 2.5)
---
"No matter how old you think you are, if you want to improve your tennis game, TCT is where you need to be. I continue to be impressed by the quality of John and Ed Pagano's instruction and the considerable progress in my game. I switched over to a clinic at TCT after one of my regular opponents started consistently outplaying me as a result of her clinic with John. Despite playing my whole life, TCT is the first club that had me write down my personal tennis goals. With John and Ed's help, I periodically reflect on where I am in meeting these goals. I showed up as a very inconsistent 3.5 player and after two clinic seasons my confidence has more than doubled and I am close to being a 4.0 USTA singles and doubles player. John and Ed have clearly and concisely explained the mechanics of high percentage groundstrokes, highly effective doubles strategy, and they have even dramatically improved my serve in six short months. I have even enrolled my seven-year-old daughter in a junior clinic because I am so impressed by TCT's method. Further, John and Ed are so vested in their students' progress that they even check in after matches. They truly care! Whatever intelligent analysis and practice your game needs, TCT offers that and everything it will take to get you to the next level."
- Jen B. (NTRP 3.5)
---
"I joined a Thursday night tennis group at TCT about 6 years ago. I had just recently gotten back into tennis after a nearly 20 year hiatus and was excited to start playing again. I instantly felt at home both within the group of players that I joined as well as with the staff and pros at TCT. I was a low level 4.0 player at the time and really didn't know much about playing doubles (the game of choice within this group). I occasionally noticed a gentleman watching our group out of the corner of his eye, frequently with a disapproving look. After a few weeks, he introduced himself; it was Ed Pagano, the owner of the club. He said that he had been watching us play and that although many of us had decent groundstrokes, we had no clue how to play doubles. I was a bit taken aback, but listened to the few pointers that he gave us. He then offered us an opportunity to come to his Sunday morning doubles clinic and really learn how to play doubles tennis the right way. A couple of Sundays later I decided to take him up on his offer and couldn't get enough. I always thought tennis was just about big serves and big groundstrokes and trying to end the point with one huge shot. Ed's method really broke the game down for us. He taught us positioning, movement, and how to set up points for our partners. It was really more like chess than tennis in some ways. I fully embraced the system and have upped my game significantly. My groundstrokes, serve and volley techniques have not changed much over the years (there were a few minor tweaks here and there), but what has changed is that I learned the game. I now play very competitively with 4.5 and 5.0 players and more than hold my own. I can't thank Ed (and John) enough for their help and insight into the game of doubles. Their enthusiasm for the game is contagious and it's really made me fall in love with the sport again. Thanks guys!"
- Mike M. (NTRP 4.0)
---
"Several years ago, I was a 3.5 doubles player. I was frustrated with my game. I felt stuck playing a certain way and not improving.
As I got older and started playing younger players, I knew I had to make improvements in my game to remain competitive. I decided to begin to go to Sunday morning drills with Ed and John Pagano. What they taught me has not only helped me to compete; they supplied the missing ingredients to not only being rated a 4.0 player – I'm now a 4.5.
The keys to my increased competitive and consistent play are based on:
1. Aggressive net play- cutting balls off that are low and in the middle
2. Moving forward while returning- more power and more consistency with shorter strokes
3. Use my spin serve more often - as a lefty it's a major weapon that I can get in the box 95% of the time
4. Use of angles- do not try to blast through opponents. Instead, use angles more frequently
5. Use of signals to take advantage of opponents' weaknesses and have the net man know where to position
In addition to the great work with the pros, I believe I am playing in the best facility in Connecticut. I have heard from countless opponents that we play in the best!"
- Steve L. (NTRP 4.5)
---
Our Policies
Club is not responsible for any injuries sustained on its courts or any part of the property. A separate waiver must be signed and returned to the club before participating in TCT programs.
Free court time for those enrolled in our junior and adult clinics. Must be booked and played the same day and court time must be for the length of the clinic time and only free to clinic member.
No make-ups or credits for missed classes or inclement weather
24 hr cancellation policy for private lessons, point play, and any other drop in program.
Injury Policy: Upon receipt of a doctor's note, credit will be given for an injury up to 3 weeks. Credit will not be given for injuries beyond 3 weeks, unless the player is willing to give up their spot in the clinic. If the spot is relinquished, then credit will be given to the end of the session.
Cancellation Policy: Any drop outs or cancellations after the deadline specified in the renewal literature and before the beginning of the session, will result in the forfeiting of all deposit monies. If the customer cancels or drops out after the beginning of the session, the customer is responsible for the full cost of the clinic session until such time as the Club has filled the spot with a replacement player. Although the club often has a waiting list, we do not guarantee that we will be able to fill all spots.
Change Policy: Effective December 1, 2014, any changes in clinic days, times or programs, at the request of the player and/or parent, will be assessed a change fee of $125.00. If the change is as a result of the Club management request or recommendation, this change fee will not apply.